ITHACA – artificial Intelligence To enHAnce Civic pArticipation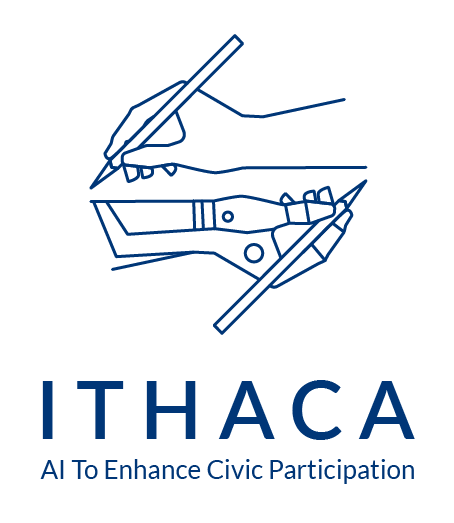 The main objectives of the project are as follows:
to develop a human-centric online discussion platform that will incorporate human and social interpretations into the design process;
to pay particular attention to the needs and voices of vulnerable groups, ensuring that human rights impacts are monitored, debated, and addressed;
to assess the ability of AI to enhance citizens' participation while preventing/minimizing possible adverse effects;
to provide scalable tools for the identification of security risks; threats and for conformity with the Fairness principle and Privacy principle in AI-based systems;
to define a data governance framework with relevant ethical principles and practices;
to provide policy recommendations on philosophical, legal, and ethical values that should be embedded in the development of AI civic engagement platforms.
ITHACA project aims to better understand the complexities and controversies for applying AI into the field of civic participation and stimulate new and responsible practices of research and innovation that anchor AI technologies design in human rights, values and principles, and moral and ethical reflection.The project vision is to contribute to the maximisation of the possible positive impact of AI on the functioning of democratic institutions and processes by developing and testing of a human centric Artificially Intelligent and Ethics by Design online discussion platform for civic participation in local governance, which incorporates human and social interpretations into the design process to ensure that AI decision-making processes are explainable, transparent and fair. ITHACA will pay particular attention to the needs and voices of citizens from vulnerable groups, with a view to ensuring that human rights impacts stemming from the design, development and ongoing deployment of algorithmic systems are comprehensively monitored, debated and addressed. Through its pilot activities in two different EU countries, ITHACA plans to assess the ability of AI to enhance citizens participation in the local governance while preventing or minimizing possible adverse effects stemming from unregulated use of AI and empowering citizens with knowledge about the AI model involved.
---
Project Homepage: https://www.ithaca-project.eu/
Team:
Dr.techn. Alexander Nussbaumer
Dipl. Kfm Gunnar Binda
Lead and Partners:
KONNEKT ABLE TECHNOLOGIES LIMITED, Ireland (Coordinator)
PANEPISTIMIO PATRON, Greece
Raising the Floor, Belgium
Stamadianos and Partners Law Firm, Greece
UNIVERSITAET GRAZ, Austria
MNLT INNOVATIONS IKE, Greece
SOFTWARE IMAGINATION & VISION SRL, Romania
PEDAL CONSULTING SRO, Slovakia
AGENTIA METROPOLITANA PENTRU DEZVOLTARE DURAB, Romania
MESTO MARTIN, Slovakia
Duration: 01.01.2023-31.12.2025 (36 month)
Funding: Supported by the EU Framework Programme for Research and Innovation, Horizon Europe (HORIZON-CL2-2022-DEMOCRACY-01-01, project number 101094364).
Total Budget: € 2,640,875.00
Total Funding: € 2,640,875.00
CSS Funding: € 420,000.00
Social Media:
Media: Video